The AudioShocker isn't going to New York Comic Con this year. But our friends from the Comic Book Pitt are at Booth AA6, spiritually inheriting our spot in the Podcast Arena (mystifyingly called the "Podcast Area" on this year's NYCC website).
We exhibited at NYCC in 2011 and 2012 (check out our NYCC recap podcasts). I had a great time meeting new people and making memories. But I did pretty much everything the hard way, from losing my cellphone on the first day of the convention to getting stuck in a massive line to enter the show floor just because I arrived 20 minutes early instead of 45 minutes early.
So for all of you first time exhibitors at NYCC — specifically those of you going there as podcasts or similar organizations — here are the top 9 things I wish someone had told me before I exhibited at New York Comic Con!
9. You can hope for big sales… but don't expect them!
I did okay my first year at NYCC because the Podcast Arena was in Artist Alley and people dug my self-published comics. But last year my sales sucked!
I was near a press-on nails vendor and some celebrity porn stars. Nobody was in my part of the show looking to buy handmade minicomics. Even the small press vendors don't get guaranteed sales, despite being relatively near the main attractions like Marvel, Capcom, and other corporate booths.
I had a friend (one very familiar to AudioShocker listeners!) who purposely vacated her small press spot just for a slice of a table in Artist Alley. Once she moved, her sales improved significantly.
Still we're talking pretty modest amounts here. Unless you're already an established creator, you may not make much money as an exhibitor let alone make your table cost back. So try to have some goddamn fun instead! Create new fans, meet other artists, and learn a few things. That stuff will pay off over time.
8. Attendees are generally friendly but often entitled.
More so than any other con I've exhibited at, the attendees at NYCC were super entitled. Some of them even bitched about me and my table right in front of me!
Others asked for free stuff. In fact, a lot asked for free stuff. That why I brought free Stick Cats comics and AudioShocker podcast sampler CDs with me for my second year as an NYCC exhibitor.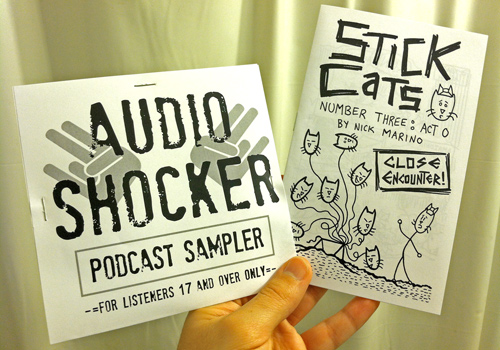 And people still acted weird!!! While I gave them all away, I had some attendees act like I was trying to hand them poison instead of free entertainment.
7. But some attendees are way too friendly.
Though I met my fair share of entitled NYCC con-goers, I also met a bunch of fantastically friendly ones. Some were just the right amount of friendly, sticking around the table to shoot the shit with me for 10 minutes and then moving on before the conversation got weird, like these guys…
But then there were the overly-friendly ones. The ones who started off normal but 20 mins into our discussion started ranting about how they wanted to kill such-and-such comic book artist. Or the guy who was cool the first three times he stopped by, but got kind of annoying by his seventh or eighth stop.
I enjoyed meeting a friendly cosplayer who walked to Artist Alley with me until she made things a bit uncomfortable when she revealed her love of whips and spanking while asking me to accompany her to the leather bondage booth. Oy veh.
5. The other exhibitors…
…are mostly awesome. But just like the way NYCC fans are a bit more eccentric than your average con-goers, so are the exhibitors. The table behind me was shouting about a Harry Potter giveaway once every hour for all four days. At the top of their lungs.
Two years in a row, another podcast insisted on bringing hot pants booth babes and making things awkwardly sexist for the rest of us. Oh, and there were the people screaming "buy a mystery box!" across from me all weekend. Aaaaand some exhibitors love to chat up friends who conveniently stand right in front of your table and block other attendees from seeing your stuff.
Basically, I guess the manners are just a little low at NYCC. That's not to say it's a bad environment. On the contrary, it's one of the best con environments I've been in. Lots of positivity. But also lots of eccentricity.
4. Artist Alley is pretty much the best part of the convention.
This was true in 2011 when Artist Alley was crammed in the back of the show floor. And this was even more true last year when Artist Alley was in its own section of the building called the North Pavilion.
There's something about the atmosphere of Artist Alley that makes it feel more comfortable, more inviting, and more rewarding. If your table isn't in Artist Alley, make sure you spend some time there anyway. It'll be worth it.
3. Cell phone signal tends to be spotty and the Wi-Fi is garbage.
Poor Javits. I'm sure they try. But with so many people needing internet access during the show, it's becomes slow like molasses. With its ludicrous price tag, that makes the Javits Wi-Fi a definite no buy.
And your cellphone reception might be crap in there too. My iPhone 4s on Verizon got pretty spotty signal. It would take a while to post pics to social media. Same with email. Calls worked alright, but with the sluggish data response that means phones die quickly when they've been in the Javits! Bring your charger.
Also, keep an eye out for a booth on the main show floor that has free temporary Wi-Fi passwords as a promo gimmick. One year it was the DaVinci's Demons booth that had four-hour temp passwords. So we stocked up on those. The Wi-Fi sucked by at least it was free.
3. Bring your own food and/or plan out your meals.
If you can, I recommend bringing your own food to the show. And WATER!!! The prices in the Javits food court suck.
11th Ave on the west side of Manhattan is kind of industrial and off the beaten path from the rest of the island. Food options begin on 10th Ave and go east from there. I super-duper recommend researching the neighborhood and picking out some places to eat ahead of time, for both during and after show floor hours.
If you're in a pinch and can't go far, there will be food carts on the street outside of the convention center. They have a few down by 34th and 11th. Probably up at 37th and 38th too. Personally, I think a Halal food cart is your best bet.
2. Look at a goddamn map of the Javits Center ahead of time!
The Javits Center is HUUUGE and the streets can get a little confusing around it if you're not an NYC native. Take 10 minutes to study a map of the place online. Why? Because knowing which streets you can and can't take to get there will save you time. Plus, it'll make the food thing a whole lot easier.
1. GET THERE EARLY!!!!!!!
Even if you ignore all of my other advice, just do this one thing: arrive about 45-60 mins before the show opens to the public. Every day. Without fail.
See, NYCC is massively popular. Lines begin forming early. And even though exhibitors can skip the attendee lines, you still can't perform magic and quickly squeeze through a horde of people standing inches away from each other for lines that stretch hundreds of feet. And that's what you'll encounter if you don't get there early. If you get to the con only 15-20 mins before it opens, you may not make it to your table before the show starts. (Granted, this may be easier if you can enter at 37th-38th around the North Pavilion.)
But beating the crowd is only one reason to get there early. The best time to hit the main show floor is about 30 mins before the festivities begin each day. Wanna play a new video game that's debuting at NYCC? There's no line before the show starts! But you'll be waiting for an hour if you go at 1 p.m. Some of the comic book publishers might already have their free swag out and ready for you too. Basically, it can be your special "me" time if you play your cards right.